Founder's Page
---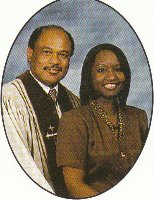 M.L. & Deborah
---
A church on the leading edge of technology; where our approach must change but the Word of God remains the same.
In these days of uncertainty in world affairs, God has birthed and is building Faith, Hope and Charity - a ministry where people can come as a place of refuge from the storms of life. God has a glorious purpose for us. he wants us to accomplish in and through our ministry a church that is going to be all that God intended for it to be. It is imperative that the church be built according to the blueprint and design of our heavenly architect. We are a church that will deomonstrate the glory of God to our community, city, nation and world while spreading unconditional love across the nation to become a global ministry. It is vital that we at FHC allow every member to function and operate in what God has called them to do.
The vision of FHC, through FHC's Multi-Cultural and Multi-Denominational Center, a make up of the FHC fellowship programs, will allow us to operate and follow our responsibilities and guidance set up by our Founder and Pastor, will put us in position to carry out God's purpose and plan for Faith, Hope and Charity Christian Center.
Our dynamic plan is to always adapt and adjust to the times, while spreading God's unchanging Word. As the Founder and Pastor, the programs God has put in place at FHC will allow us to facilitate restoration in the church, home and family and present the world with modern day truth to the Word of God.
I feel that what God has done in the birthing of FHC sets the stage in preparing us for the Second Coming of Christ.
We must work the works of him that has sent us, night come when no man can work. John